0 item(s) in your cart
| Cart... | Product | Price | Quantity | Subtotal | |
| --- | --- | --- | --- | --- | --- |
Continue Shopping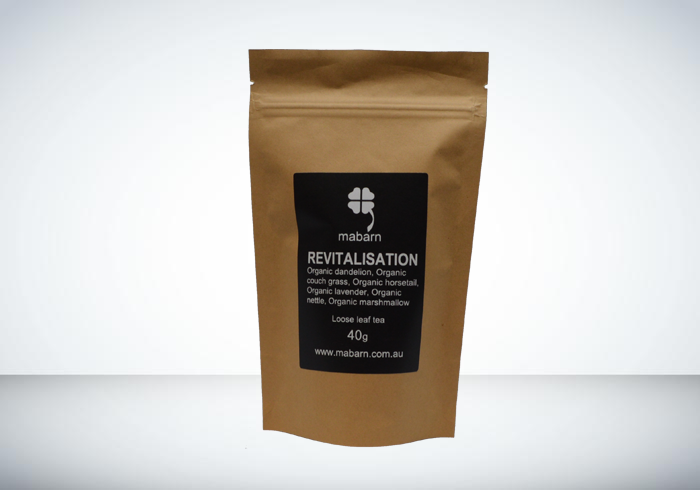 REVITALISATION 40g
($10 AUD
+ Postage $15 AUD)
Revitalisation tea blend is designed to help with body revitalisation through the kidney health.

Ingredients: organic dandelion, organic couch grass, horsetail, organic lavender, organic nettle, marshmallow
Enjoy flat rate postage

Educational information of ingredients
Dandelion
Dandelion was used for disturbances in bile flow, inflammatory conditions of the urinary tract. It was also used for liver and gallbladder disorders, gout, rheumatic disorders, eczema, and other skin conditions.
Couch grass
Couch grass has been used as a diuretic in cases of bladder/kidney stones, and as a cough medicine to alleviate bronchial irritation. Mainly couch grass is used for urination and kidney stones since the time of the Roman Empire.
Horsetail
Horsetail is one of the best natural diuretics that exist. It also highly valued for the positive benefits for the kidneys, slimming, depurative and detoxifying. horsetail is also known for its aesthetic and regenerative properties which help to renew cell tissues, giving a better look to our skin and making it look more beautiful.
Lavender
Lavender has been used as a general tonic, sedative, antispasmodic, diuretic, digestive aid, and gas remedy. It also has been used to treat common minor ailments such as insomnia, nervousness, fatigue, headaches, nausea, and gas. Externally, it is used to treat skin ailments such as fungus, burns, wounds, eczema, and acne.
Nettle
Nettle has been used for fighting oxidative stress, reducing pain and inflammation, relieving urinary tract infection, improving digestion, improving kidney health, and reducing allergic reactions. Nettle has a powerful detox effect due to its diuretic properties and its ability to flush out toxins from the body.
Marshmallow
Marshmallow aids the body in expelling excess fluid and mucus. It strengthens the digestive system and improves the functioning of the immune system. It also has been used for lung remedy, urinary track problems, stomach ailments, and wound healing. The German Commission E has approved the leaf for irritations of the mouth and throat, mucus control, and associated dry coughs.
Brewing guide: 1 teaspoon per cup of boiling water for 5-10 minutes. 1-5 cups per day depending on the health condition.
Precautions: Pregnant women, women who wish to become pregnant, breastfeeding women, and people taking medication are advised to have medical professionals' advice before drinking tea. Stop drinking tea if you experience negative side effects and seek medical advice.
Information on the traditional uses and properties of herbs are provided on this site is for educational use only, and is not intended as medical advice. If you have any serious health concerns, you should always check with your health care practitioner before self-administering herbs.