0 item(s) in your cart
| Cart... | Product | Price | Quantity | Subtotal | |
| --- | --- | --- | --- | --- | --- |
Continue Shopping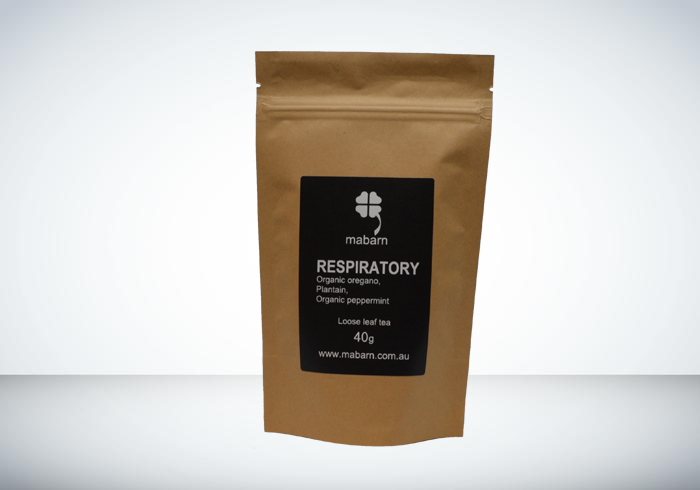 RESPIRATORY 40g
($10 AUD
+ Postage $15 AUD)
Respiratory tea blend is designed to help with respiratory health.

Ingredients: organic oregano, plantain, organic peppermint.)
Enjoy flat rate postage

Educational Information of ingredients
Oregano

Oregano has lung cleansing, antihistamine, respiratory aiding,anti-inflammatory, and antibacterial and antiviral effects.

Plantain

Plantain is effective as a wound healer, as well as an antiulcerative, antidiarrhoeal, anti-inflammatory,antibacterial, and antiviral agent. Plantain is great for gut health due to its anti-irritation and anti-inflammation in the bowels. It is aiding in the repair of damaged mucosal tissue, such as the gut wall that is responsible for the immune system.

Peppermint

Peppermint has a long history as a digestive aid and as a treatment for the symptoms of cough, colds, and fever.The German Commission E approved for spastic complaints of the gastrointestinal tract as well as for the gallbladder and bile ducts.

Brewing guide: 1 teaspoon per cup of boiling water for 5-10 minutes. 1-5 cups per day depending on the health condition.

Precautions: Pregnant women, women who wish to become pregnant, breastfeeding women, people taking medication are advised to have medical professionals' advice before drinking tea. Stop drinking tea if you experience negative side effects and seek medical advice.

Information on the traditional uses and properties of herbs are provided on this site is for educational use only, and is not intended as medical advice. If you have any serious health concerns, you should always check with your health care practitioner before self-administering this tea.